DEVELOPMENT THAT MAKES A DIFFERENCE
The Drew Company, located in Boston, Massachusetts, is a privately held real estate development, management, and consulting firm founded in 1982 by John E. Drew. Best known for its deep experience in real estate development, management and consulting, the Drew Company currently oversees a broad range of ventures, spanning real estate, hospitality, technology, and entrepreneurial investment. 
Among notable real estate projects, the company developed the 2.5 million square foot Seaport Hotel and World Trade Center Boston Complex and the 3 million square foot Ronald Reagan Building in Washington D.C. The firm's past developments include the Great Woods Center for Performing Arts (now called the Tweeter Center), the Bayside Exposition Center, and Constitution Plaza in Boston, MA. The company's latest projects, Waterside Place and Waterside Crossing in Boston's Seaport District, will feature retail shops, a hotel, residential units, and parking.

Mayor Walsh, John Drew cut ribbon on Waterside Place (BBJ slide show)
Jan 30, 2014, 2:04pm EST
Construction-worker-turned-mayor Martin J. Walsh, who helped build some of the early projects in Boston's Seaport District, cut the ribbon today on Waterside Place, the 236-unit luxury apartment tower on Congress Street.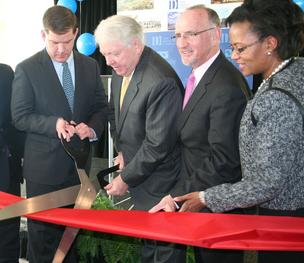 At today's ceremony, Walsh praised John Drew, the developer of the 350,000-square-foot mixed-use property located on a three-acre parcel at the intersection of Summer, D and Congress streets. He said Drew imagined a neighborhood in Seaport when it was just a deserted rail yard.